Hydro Cleanser Blackhead Remover Kit
In stock, ready to ship

Inventory on the way
4-6 Days fast shipping available
Reclaim Your Confidence With A Younger, Healthier, And Rejuvenated Skin!
Do you feel insecure because you have acne, blackheads or pimples on your face? Are you tired of unhygienically squeezing out your impurities and walking around with scars? Then you've come to the right place! The Qlear™ Hydro Cleanser will ensure that you will shine again in the safest and cleanest way possible. At the beauty salon you pay a fortune for this treatment, now you can perform it yourself at home!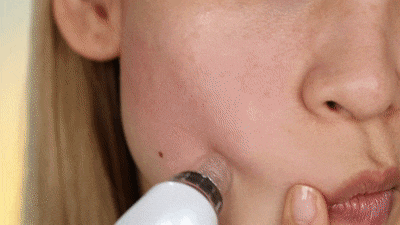 Why do people choose this product?
Gain more self-confidence: 

Get rid of dead skin cells, and make way for a confident, gorgeous glow. The Qlear™ Hydro Cleanser is designed to give your skin that extra bit of sparkle. Your skin will be softer, smoother, and more hydrated with visibly smaller pores.

Professional-grade treatment at home:

 No more expensive trips to the salon! Let the Hydro Cleanser work its magic. Its advanced hydro dermabrasion technology effectively scrubs dead skin cells, dirt, and toxins from deep inside your pores, clearing out blackheads and acne, leaving you with clean, hydrated skin!
Perfectly safe for skin:

 Using regular harsh abrasive cleansers can ruin the outer layer of your skin. With 3 modes and 6 different suction heads, the Qlear™ Hydro Cleanser will not only gently clean your pores with natural water jets but also eliminate blackheads and whiteheads without damaging the delicate skin around it.

Use anywhere, anytime:

 

The first handheld hydro dermabrasion machine in the world. The USB-rechargeable Hydro Cleanser comes with a massive 150 minutes run-time per charge. Free your skin from dead cells, extract wrinkles and reduce fine lines and wrinkles whenever you want, wherever you want.
Say Hello To Silky-soft, Radiant Skin!
For anyone who's always dreamed of having acne-free and clear skin, the Hydro Cleanser is the ultimate skincare system that delivers. This handheld hydro dermabrasion machine takes away dull, lifeless skin, revealing newer, younger-looking skin. Discover Qlear™ and show off your flawless complexion to the world.
You deserve to feel confident in your clear, radiant skin. Try it out today and see the difference!
Specifications:
HD LED display
6 different suction heads
Built-in 1000mAh battery
3 speed options - for dry, normal, oily skin
100% hygienic – separates used and clean water
Lasts 150 minutes on a single charge
Package Contents:
1 x Qlear™ Hydro Cleanser
1 x USB Charger
6 x Suction heads
Region
(shipping location)
Delivery Time
(working days)
Rate
(shipping fees)
United States
7-12 days
Free Shipping Over $60
Canada
7-14 days
Free Shipping 

Over $60

United Kingdom
7-14 days
Free Shipping 

Over $60

Australia
7-14 days
Free Shipping 

Over $60

Europe
7-14 days
Free Shipping 

Over $60

Rest of World
226 countries
7-14 days
Free Shipping 

Over $60

Special Countries
Jersey, Guernsey, Virgin Islands of British, U.S Minor Islands
8-16 days
Free Shipping 

Over $60
Please allow us few days after order confirmation, to get your order fulfilled.
FAST SHIPPING: 
SugarBaeLA's #1 priority will always be our customer's satisfaction. Due to our extremely high demand & daily order volume, our current average shipping times can vary from 7 - 20 days. This may change depending on the region you may be located in. When you place an order with SugarBae we send out your package on the next day and get it on the road as quickly as possible to ensure you get what you ordered as soon as possible. Due to recent demand, processing may take 5-7 business days before it's shipped. We are working to achieve quicker shipping times (7 days and below) in the near future. If you have any questions or concerns about your package we will be as quick as we can to respond to your email.